---
---
On Gary David'


out of print


Coming Home Again

Under the full snow moon
the Black Hills murmur in their sleep.
Upon cool white sheets
they turn over.
Like a lover
they've been waiting
for a long time
for you alone
to come home.
All through the night
the curves of shoulder and belly
are rising and falling
like the slow round breathing
of waves far out at sea.

"...as rural as you can get by championing the people and plains of the northern tier of the states--Nebraska, Montana, and the Dakotas--where you often must drive 50 miles for a beer... This mixing bowl of a country we live in is simply great, and I am grateful to Gary David for helping me understand such a big swath of it better and doing so with such sensitivity, wit and skill."
-Joe E. Armstrong, editor of Hard Roe to Hoe

"These poems require that you return to them, not to struggle with obscure meanings, but to enjoy the voice of Gary David singing to the world."
-Linda Hasselstrom, author of Land Circle and Dakota Bones.

"I have nothing but absolute respect for Mr. David's work. He is a poet who truly believes in the relationship between sound and sense. The degree of his talent is incredible."
-Lenore A. Senior, editor of Willow Bee Publishing House

---
O
From Day 1 -- Wednesday, June 21, 1876

In-bourne on the back of the eight-leggéd horse
White Breath toward Deadwood
of Dacotah Territory, Farley O'Din
then rode down the gulch as the sun
rested on the western rimrock
a moment, & was gone. Its journey
north to this day is done. Come down
on this ramshackle goldbust town, the weight
of a hundred summers of black iron lie
in the red, hot dust.

As Walt Whitman was writing about Manifest Destiny, and Arthur Rimbaud in France was describing his deliriums, the gold rush on Deadwood Creek in the Black Hills of South Dakota was exploding into an instant city of 10,000. But these hardy gold-seekers refused to acknowledge that they were invading the sacred heart of the Sioux reservation.

Dakota poet Gary David's long poem seeks the roots of this confrontation in an apocalyptic play of events. This beautifully written montage echoes the work of Charles Olson and Ed Dorn, filled with Black Hills history and spirit.








"Gary David expands the limits of a form he has been instrumental in creating--the verse documentary. At a time when poetry flounders, and historiography is at war over old grounds, his work may well be the light of the future."
-Edward Dorn, author of Way West and Gunslinger

"...rooted in place and history, giving us a view of our past and its influence on the present. This work promises to establish him as a major voice in Western writing."
-Gary Holthaus, former Director of the Center of the American West, the University of Colorado, and author of Circling Back

"Gary David not only has the ability to hear the language of place, but he also possesses a wonderful ability to translate it to his readers through myth and poetry set in the historical context of Deadwood during the Goldrush days in 1876. A Log of Deadwood takes us to the streets of Deadwood in a magical, sometimes shocking, no-holds-barred multi-layered exploration into the story--and the stories behind the story--of how a race of people could emerge onto sacred land and treat it as a material resource..."
-Judy Merritt, author of Mountain Rising

"...destined to change contemporary literature of the American West. ...unforgettable and unique... With a richly informed imagination, Gary David has recreated a universe placing the Black Hills of South Dakota at dead center."
-Susan Sheppard, author of Phoenix Cards

"Gary David weaves together mythology, literature, pop culture and meticulously researched history to tell a lurid tale of greed and anguish... This is a compelling, powerful piece of storytelling that demands more than one reading."
-Barbara Ordahl, South Dakota Library Association

"Mr. David's talent is manifest, and perhaps immense. The labor required to create this book was humongous, and I'd not be surprised if it provoked a Pulitzer."
-David Castleman, Dusty Dog Reviews

"Through his shifting lens of conflicting mythologies, David confronts and ultimately indicts the mentality that made the more infamous aspects of the Gold Rush possible; but language--in particular, its versatility and malleability--is really what this poem is all about."
-Paul Hadella, Western American Literature

"An excellent work, the kind of approach we should be taking to our history, to our lives."
-Jake Berry, author of Brambu Drezi

"i am so enriched by A Log of Deadwood literature is so enriched by it. the formal perfections, the fullness of meaning, the alignment of dimensions, the beauty... not since hilda doolittle have i received so much from poetry. i feel a great admiration for it, and gratitude."
-margareta waterman, author of Lady Orpheus, et al and founder of nine muses

"There is an epic quality in David's poetry that readily reminds one of the scope and power of the great John G. G. Neihardt's A Cycle of the West."
-Charles Nauman, The Rapid City Journal

"A Log of Deadwood is a very real and intelligent work of art... a rich and provocative book."
-Karl Kopp, Ph.D., of The Bloosmsbury Review

"...crackles with energy."
-Keith Wilson, author of Graves Registry

"...left me thinking in many directions and satisfied."
-Michael Crye, editor, Poetry Fly

"...edgy and intelligent..."
-Susan Smith Nash, editor, Texture

"...fascinating book by a talented writer; the kind of history we need."
-Robert Edwards, author of Radio Venceremos

"...a very accomplished and readable book."
-Tom Beckett, editor, Interruptions

"...part of the ongoing white side of postcolonial writing, and very exciting."
-Jim Cody, Place of Herons Press

"...funny, tragic, sexy, cosmic... extraordinary.... A Log of Deadwood is one of the most important books to be published recently."
-Maggie Jaffe, author of How the West Was One

" I appreciate the strength and spirit of this new book."
-Joseph Bruchac, Greenfield Review Press

"A Log of Deadwood is a wonderful book of days, big, vigorous, a history revivified... in the poem's field."
-Major Ragain, author of Fresh Oil, Loose Gravel

"Deadwood's terrific, the best thing I remember ever reading 'in this lifetime.'"
-Stephen Ellis, author of Book of Currencies

"David's passion is outstanding and his synthesizing keen... The epic of Deadwood has to be heard..."
-Vincent Ferrini, author of Know Fish and The Mage Image

"A Log of Deadwood burns with a bright pyrotechnic fire."
-Anselm Hollo, Naropa Institute
---
Eight Miles High

Mild harmonies: flying in
formation, birds swoop
as one--sweet chord!--
after another. Mile after mile
in the mind. New worlds
to solo in. And to think
I grew up to think
the world was once
one place for many
eyes. There's a tear in the wind
a bird disappeared
thru. The other end of space
is time. I see the bird circle
in a sky in a year
of some heaven or other
before my birth. Or is it after
another death? Down here
the sun's lost
all count.

"... an untimid, well-constructed deconstruction of a generation's delusions and truths."
-Michael Crye, editor of Po'Fly

"It's interesting that the titles of the poems are old songs and that the poems themselves work well."
-Peter Ganick, editor of Potes & Poets Press

"Loaded with sounds and puns, this book brings back to me some of the loss of those times--or those times since lost... and much needs to be said about these times in relation to them, as this book does."
-Dale Jacobson, author of Shouting At Midnight

"I love its re-vision (not as it's generally applied, but actually seeing it anew) of culture through the lens of its sparkling song."
-Jake Berry, author of Brambu Drezi

"I really enjoyed Remember To Murder the Numbers. It's electric seeming yet moving, in an off-beat way. I read it as a profound alienation tinged with the zaniness of living in America which is plummeting toward the millennium. David's puns and associations are dazzling."
-Maggie Jaffe, author of Continuous Performance

"Remember To Murder the Numbers is THE most precise detailing of modern existential angst that I've seen. It's truly fantastic!"
-Judith Rachel Platz, author of Tending the Dark


---
On Tierra Zia (nine muses books, 1996) -- $9.00

TURNING SUMMER

After reading a long time about deep
ecology, I step out on the porch.
The belly of midnight swells
a sweet breath of growth.
Stars' stridulations echo
all the nameless constellations
of crickets hugging crystal globes
of dew. I think of concentric spheres
the medieval cosmos spun, smell onion
in the garden. Inside, my child stirs
inside her dreaming mother
or his. It's a mystery which-
ever way we turn. Whisper syllables
from sacred circles, and stars begin to burn
in the eyes of the unborn.
"'These lines seek to honor the Ancient Ones...' This is how Gary David's dedication to his new collection of poetry Tierra Zia begins, and the whole book becomes a testimony to that quest, honoring Them best by celebrating the land itself where, as he says so succinctly and truly 'mornings...are endless blue mesas of air.' I admire and respect Tierra Zia. It is a worthy addition to Southwest literature and I am sure it will be hailed as such."
-Keith Wilson, author of Graves Registry and Lion's Gate: Selected Poems 1963-1986

"This book is tour guide of the language and land of New Mexico by a poet whose previous book of poems, A Log of Deadwood, mapped out the upper midwest Dakota as a reclamation project against not only the destroyers of the landscape but also destroyers of the mindscape (the land grabbing miners and the purveyors of the myth of progress that justified the ruination)....Gary David and artist Dawn Senior give us this other way of seeing, from the fragments the intimation of the whole, which, as we should know, is the real name for the holy."
-Joe Napora, editor of Bullhead

"Gary David emerges as a poet of uncommon precision and breadth, and as one who believes wholeheartedly in the promise of poetry's deepest orders to consecrate the individual soul beyond a bio-blasted circumstance. Its mere 40 pages is no indication of its fabulous range: from poem to poem, the poet moves without a lapse, condensing the quotidian & the breathtaking, history & nature, topography & appetite. It is a book to carry for a lifetime."
-Ralph LaCharity, author of on Som bo

"...a book to cherish, to sit with again and again."
-Margaret Randall, author of Hunger's Table

"Tierra Zia is a gem of a book, beautifully illustrated with black-and-white pen and ink drawings... a visionary, and 'deep work.'"
-Karl Kopp, author of Yarbrough Mountain

"Tierra Zia is a beautiful book both in content and design."
-Laurel Speer, author of Blood & Puppets

"...a fine, beautiful book."
-Alex Cigale, editor of Synaesthetic

"Aside from the marvelous poems, it is a beautifully done book, a real accomplishment in every way. Dawn Senior's stunning artwork is absolutely appropriate and complimentary to the poems throughout. So--bravo!"
-Robert Edwards, editor of Pemmican Press

"Tierra Zia is a lovely book that brings a freshness to the places I've learned to cherish in these past 3 years. These are poems I can return to with the same joy I return to the places."
-Alex Gildzen, former director of Special Collections, Kent State University Library



---
Each Small Breath

A meadowlark on a fence post
sings down the sun, keeps warm all night
by the glow on his breast.
Muscles on the flank of a roan horse
ripple like waves of wind-blown grass
she loves to wade in
all day.

Who's to say
the earth is not blessed
by each small breath.

"Like a keen-eyed bird of prey, Gary David's Divining the Eagle's Vision does not miss any nuance in the natural abundant beauty of the West. So too the eagle takes in the human struggles played out on "Indian Territory": the bar room brawls, the broken down "Skins" who freeze on the unforgiving prairie, the Cowboys who "insure" their pickups with Remington rifles, the condos and reservation housing which seem to war with each other over the sites of many infamous battles. With beauty, humor, and grit, Gary David's powerful poetry teaches us the lessons of American History that we have either never learned, or the History we're trying so desperately to forget."
-Maggie Jaffe, author of How the West Was One and 7th Circle

"Gary David's poems spring from a place we all wish to know well, a place called Home. In this place we stand with the people we love, on the land that we love, and we celebrate the seasons as they pass. These poems bring us back to the land of our senses and remind us that, despite our heavy losses, it is still sacred ground."
-Will Walker, co-editor of Haight Ashbury Literary Journal

"I was especially struck by the poem "Going West," which was the kind of poem I tried for years to write, but could never find the right balance of clarity, emotion, memory and--probably--experience. Really wonderful!"
-Alan Gilbert, co-editor of apex of the M


"Gary David presents us here with a book more accomplished than a good many of the better known names currently bounced around. In fact, it is my belief that an entire and powerful culture of unknown poets currently exists, whose work will ultimately need to be acclaimed if this nation is to continue to have a genuine, vital and useful poetry. Gary David is among those poets."
-from the Foreword by Dale Jacobson, author of Factories and Cities, A Walk By the River, and Exile in My Homeland


"Your images are striking, and just the opposite of the
tight East, and its descent into Harrowings of Hell

we are two divided worlds only jetplanes see their containments-
still missing companionships, the blue blankets of vast
Saharas,

I study maps of the continents, being one with them, and
desiring to be in the spaces of their terrain, and culture,

our comorant and your eagle define the differences"
-Vincent Ferrini, author of Know Fish and many other books


---
From the Postlude

With a crackling streak of lightning
stroked up one cheek &
white spots of hail that danced
on a body lean as a willow stick,
he glanced back again
toward his dear Black Hills--
then started to disappear
like pipe smoke dissipating
on an autumn wind. Riding
through sacred space, his spirit
aspired among the farthest stars
until it became one. Like a tear
gliding 'cross the face of midnight,
the flame of the red son fell.

"In an age when it is easy and acceptable to use Indian subject matter to enhance one's own ego (under the name of 'art'), Gary David proves himself to be more than a mere recorder, more than an anthropologist, but instead, a true poet at heart, who brings (and shares with the reader) a sense of care and caring, which is an essential ingredient to the nature of his art."
Lenore A. Senior, editor of Willow Bee Publishing House

"There is an epic quality in David's poetry that readily reminds one of the scope and power of the great John G. Neihardt's A Cycle of the West."
-Charles Nauman, The Rapid City Journal


---
My Sedona

Wipuk red rock anodes
a way up. Vortextual
bell. Sun maiden voyaging
Boynton Cañon spandex all the raging
New Adage Mu-town. Merciless bends real
amends estate car Ajax up, O Lord.
Schnebly eyes no erstwhile earnest max inside
Tlaquepaque, porque pocket pricey neo-
aboriginal prints pig foam dicey dangle
mesa chapel couches. In scrotally muggy terms
Mogollon chubasco joie riding the Rim's
tautologically together Coconino Kid arches
Yavapai in the sky on a yo-yo
nee Mimi. Verde virgin Arizunna dew banged
blue stone white stone ley line lady electro-
magnetically wet Lemurian peoples
Camp Orgone Garden. Here am ardent pyramidal
life crisis after sunken crystal stasis
deserts arid auras from Montezuma's
wellness to the base of Mingus' psi kick.
Anasazi fuzzy albeit Bear Clannish, was he
huggingly drunk in the pink
quartz heart chakra seminar
or not? Only karma will tell
& toll for whomever hums the petrobuzz
is & was (eternally) entelechy.



"I hear the anger, disgust, disillusionment all carried by the jazz riff line. This is clear, powerful writing! And how very appropriate for the beginning of 2000... I think ole Walt is watching and quite happy that someone is kicking up the dust down here."
-Judy Platz, author of Tending the Dark

"...the language is intense and dynamic. It's like very rich chocolate, so I can only read a little at a time. Although not as sweet... perhaps more like unsweetened chocolate."
Branton Shearer, Ph.D. psychology, creator of MIDAS (Multiple Intelligences Developmental Assessment Scales) MIResearch

" I'm trying to think more complexly about the forms a documentary poetics might take in this early 21st-century day and age, and [Gary David's] work helps cast light on some of these concerns, especially in poems such as "Honky Gringo Wasichu Blues," "borderline," and "The Color of Air," where he really bears down on what it means to survive and exist in a specific social and cultural milieu."
-Alan Gilbert, co-editor of apex of the M



---

limited edition, available only as a gift


from Coda


Red inlet to the Islet
of Omega Wakan: up Battle Creek, up
the Black Road, alchemical anabasis
to violet granite, the sacred heart
of the New World Tree. In the oldest eye
our veins can remember, going back
to the sundance Center:
cottonwood leaves glisten
golden seed syllables
in the wind. In the oldest wind
our cold serial history whips up
a twilit banquet on the hoop dance circuit.
We eat & speak in buffalo tongues
of the coming eagle nation.

Terra-- Latin (Indo-European) for "earth, land"
Kota-- Lakota (Sioux) for "friend, ally"
Inland Island-- a poetical/alchemical sublimation of the Lakota phrase
Wita Paha, "island hills," i.e. the Black Hills of South Dakota


Download back cover Totem Wheel.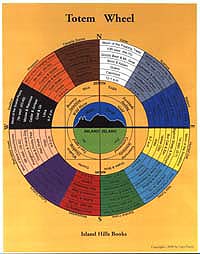 To read .pdf file, Adobe Acrobat Reader needed
For free download:



The "Totem Wheel" is a copyrighted image for personal enrichment and enjoyment only.
Any other use without the designer's consent is expressly forbidden.


*

"...inspiring, impressive, wonderful. the Great Cabala, mind of the world,
now contains this one more precious stone in its rotating life.

"of course i am also awed by the immensity of what lies hidden and seems to
stay hidden: to be created only to be hidden -- it is difficult to
understand. but it is the nature of alchemy (and also of theatre) that the
point is for it to happen; it communicates itself by being in existence.
very hard on us, in worldly terms, but the poet has the experience of
creation, and the alchemist has the furtherance toward his own inner gold
the experience has given him, so i guess we have to be satisfied with that.

"in any case, i cannot say too much how grateful i am for the existence of
terra kota and what [Gary has] given the world by writing it."
-margareta waterman, publisher of nine muses books, author of numerous books of poetry and prose.

(See her story hohokam in the Works section of this web site.)




Return to top of page.
You
can
go
HOME
again.